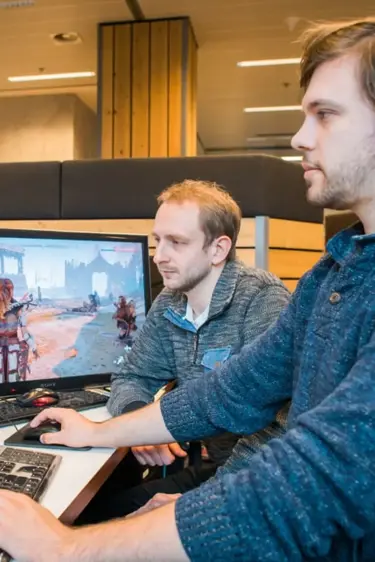 Our team
Our Designers are driven to push artistic and technical limits in open-world games. We want players to feel hooked by our characters and immerse themselves in our world, to enjoy having their actions and choices reflected back at them, and to savor a game world that feels alive and real. To accomplish these goals, we collaborate closely with writers, animators, technicians, and other designers throughout the studio.
What you will do
Guerrilla is looking for an experienced 3C (Characters, Camera & Controls) Systems Designer with a passion for creating & implementing responsive controls and a dynamic camera system for playable characters. Reporting to the Lead Game Designer, you will work within a core team of multiple designers focusing on traversal and character mechanics, and take charge to ensure quality feature delivery.
As an experienced (3C) Systems Designer, you will design and share innovative features to create accessible character controls and dedicated camera systems for our target audience.
In this role, we will look to you to:
Design, prototype and implement systems that provide an accessible experience to our target audience with easy to learn controls but with added layers of functionalities that add depth to our gameplay.

Work closely with programmers and animators to achieve dynamic cinematic cameras that can react to player actions.

Collaborate with different teams to gather feedback and improve the player's experience.

Explore creative ways to create a dynamic camera system.

Work closely with your Lead, Producers and Project Managers to ensure a timely delivery of design documents and in-game features.

Coordinate with QA to make sure game features are fully tested and stable.

Analyze and parse playtest data to extract actionable tasks.

Analyze how similar games implement responsive controls over a network.
Who you are
We'd love to hear from you if:
You have 3+ years of experience as a Game Designer and demonstrable experience working on characters, camera and controls.

You have clear and correct communication skills (in English), strong problem solving skills, and a willingness to support the team, leads and production where needed.

You can clearly advocate and prioritize core system features to internal and external stakeholders, and ensure our design and community philosophies are consistent.

You have experience with node-based scripting to prototype and implement your ideas.

You understand and can adapt to the technical limitations of an online environment.

You are able to work within an international team environment.

You have a keen interest in game industry developments and competitor research.
Interested?
If you think you're up for the challenge, we'd love to hear from you!
Be sure to submit your CV and a Cover/Motivation Letter; we like learning a bit about your background and your reasons for applying at Guerrilla. Samples of your previous work on 3C systems would be greatly helpful. Video links and/or short descriptions of the systems and your involvement are ideal.
Please note: This position is based in our studio in the heart of Amsterdam. Guerrilla offers relocation and immigration support.
Frequently asked questions
Q: I don't have any work examples. Can I still apply for a job?
A: It's essential that you can prove to us that you have the necessary skills for the job. Rushing into an application without supplying the required materials won't leave a good impression. In general, it's a good idea to put together an excellent portfolio before you start applying for jobs.
Q: I have no experience in the games industry. Can I still get a job with you?
A: Games industry experience is certainly a bonus, but it's not always necessary. It's important to put together an excellent portfolio that demonstrates your skills and your understanding of the game development process.
Q: I applied for a job with you, but I haven't heard back. What happens now?
A: We aim to respond to all applications within three weeks. Due to the volume of requests, this sometimes takes a little longer. If you have not heard from us within three weeks, your application was most likely unsuccessful.
Q: How can I arrange a job interview with you?
A: We receive so many applications that we are only able to arrange interviews with the most suitable candidates. It's important that your application stands out from the crowd. Go ahead, impress us!
Q: I'm considering working at Guerrilla in the future. Is it possible for me to come for a tour of the studio?
A: Because of the confidential nature of the projects that we are working on, we cannot allow visitors into the studio. The most impressive job applicants will be invited for an interview, and will have an opportunity to visit some of the development areas.
Q: I'm a university student looking for a company that can help me with a (master) thesis assignment. Can we arrange a meeting to look at the different possibilities?
A:We like to help out with university level assignments when we can! However, due to time constraints and deadlines this isn't always possible. Please send a brief e-mail outlining the aims of your assignment and what input you would need from us. We'll let you know if we are able to help you.
Q: I'm a high school student and I have to do a school assignment on media and entertainment. Can I make an appointment for an interview with one of your employees to discuss this?
A: Due to the sheer number of requests we receive, we regret that we are unable to participate in interviews with school students.
Q: I have a great idea for a game. How can I submit it to you?
A: All of our game concepts are developed by our internal designers, in conjunction with our publishers. It is company policy not to accept game concepts from third parties.
Q: I'm still in school and I want to get a job in games in the future. What kind of education and skills do I need to achieve this goal? Can you provide me with information on the schools that teach this discipline?
A: The skills required to work in the games industry are very broad, as there are many areas in which you can work. In development there are roles in art, animation, programming, design, and project management. Other industry roles include sales, marketing, PR, and testing. The most important thing is to get an education in subjects that you enjoy and that you are good at. Your career adviser should be able to give you guidance as to which careers are suitable for an individual with your particular skills.