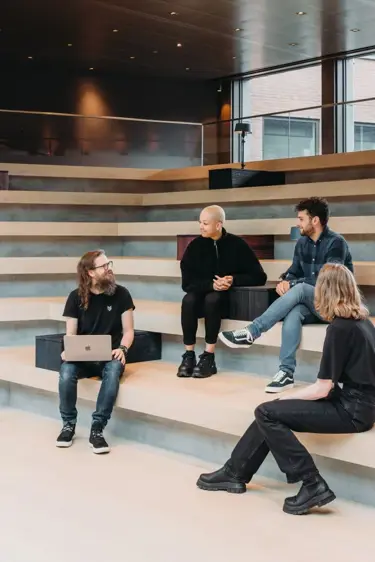 Help guide the creation of stories and dialogue with dramatic conflict and subtext.
Our writing team
Our writers are driven to push the boundaries of dramatic storytelling in open-world games. We want players to feel hooked by our quests and characters, to enjoy dialogue that crackles, and to savor our stories long after they put down the controller. To accomplish these goals, we collaborate closely with designers, artists, animators, actors and technicians throughout the studio, and beyond.
What you will do
As a Principal Writer, we will look to you to:
Take ownership of complex narrative features and content;
Pitch compelling ideas for game quests, factions and backstories;
Write quest dialogue, systemic dialogue, story outlines and faction documents;
Develop narrative designs for quests, gameplay activities and game features;
Support teams in our studio with their narrative needs while advocating for the game's emotional arc;
Act as an example for junior writers to help them level up.
Who you are
We'd love to hear from you when you:
Have 6+ years of experience as a game writer at a AAA studio, having shipped multiple AAA game titles;
Have a background and/or had training in dramatic writing and story structure;
Have experience with complex narrative design tasks and branching dialogue systems;
Possess extensive knowledge of stories and narrative design in open-world RPG games, online games, and MMORPGs;
Are proficient with prompt revisions based on rapidly evolving feedback;
Can share 3 writing samples (10 pages or less) demonstrating a clear understanding of dramatic conflict and skill with dialogue.
Interested?
If you think you're up for the challenge, we'd love to hear from you! You can apply by hitting the "apply now" button. Be sure to submit your CV, cover letter and at least 3 writing samples (10 pages or less each).
Please note: This position is based in our studio in the heart of Amsterdam. Guerrilla offers relocation and immigration support.
In your cover letter, please include your reason for applying at Guerrilla, your background and how you became a writer, and briefly describe the proven methods you rely on to write great stories.
For your writing samples, PDFs are preferred. Please ensure each sample is no longer than 10 pages, though shorter is often better. Before applying, look at our previous releases - if you can, play them.
When selecting or composing your writing samples, be sure to include samples that reflect the style, tone and particularly the modes of storytelling seen in our previous releases. Your samples need to demonstrate you can write the kind of games we make.
It is strongly advised that among your samples you include at least one script for a game cinematic/cutscene, preferably written in screenplay format. We need to see that you can craft dramatic scenes, and that you have a good ear for dialogue.
It is preferred that your other samples are also examples of games writing, if possible.