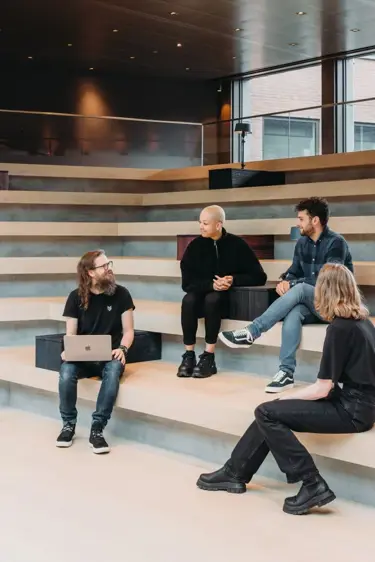 Collaborate on stories that define a world
OUR QUEST DESIGN TEAM
Our Quest Designers build exciting, challenging gameplay spaces that help tell powerful stories in a rich, dynamic open world. We split our time between building the story critical gameplay of the main quest, and working with the narrative team to design and develop the side quests that bring life to the worlds of our games. Our Quest team collaborates with almost all other departments in the company, and is at the center of development on our games.
WHAT YOU WILL DO
As a Quest Designer, we will look to you to:
Build ground-breaking, innovative gameplay experiences that immerse players in the story
Own your ideas: build, script and polish them from concept through final implementation
Blockmesh level designs that astonish, challenge, and engage players in a variety of ways.
Cooperate with the entire design team and other departments to maximize use of existing game systems, and support the needs of fellow developers;
Based on our play-test driven development schedule, focus on iteration and polishing of quests and missions.
WHO YOU ARE
We'd love to hear from you if you:
Have 2 or more years of experience as a Quest, Level, Content, or Mission Designer on projects similar in scope and complexity to ours
Have shipped at least one title
Have a passion for story-driven content in both single-player and multiplayer games
Are experienced with 3D world and level building tools and/or have a technical background in programming or scripting (visual editors preferred)
INTERESTED?
Is this the quest you're looking for? If so, we'd love to hear from you! You can apply by hitting the "apply now" button. Be sure to submit your CV and Cover Letter!
Frequently asked questions
Q: I don't have any work examples. Can I still apply for a job?
A: It's essential that you can prove to us that you have the necessary skills for the job. Rushing into an application without supplying the required materials won't leave a good impression. In general, it's a good idea to put together an excellent portfolio before you start applying for jobs.
Q: I have no experience in the games industry. Can I still get a job with you?
A: Games industry experience is certainly a bonus, but it's not always necessary. It's important to put together an excellent portfolio that demonstrates your skills and your understanding of the game development process.
Q: I applied for a job with you, but I haven't heard back. What happens now?
A: We aim to respond to all applications within three weeks. Due to the volume of requests, this sometimes takes a little longer. If you have not heard from us within three weeks, your application was most likely unsuccessful.
Q: How can I arrange a job interview with you?
A: We receive so many applications that we are only able to arrange interviews with the most suitable candidates. It's important that your application stands out from the crowd. Go ahead, impress us!
Q: I'm considering working at Guerrilla in the future. Is it possible for me to come for a tour of the studio?
A: Because of the confidential nature of the projects that we are working on, we cannot allow visitors into the studio. The most impressive job applicants will be invited for an interview, and will have an opportunity to visit some of the development areas.
Q: I'm a university student looking for a company that can help me with a (master) thesis assignment. Can we arrange a meeting to look at the different possibilities?
A:We like to help out with university level assignments when we can! However, due to time constraints and deadlines this isn't always possible. Please send a brief e-mail outlining the aims of your assignment and what input you would need from us. We'll let you know if we are able to help you.
Q: I'm a high school student and I have to do a school assignment on media and entertainment. Can I make an appointment for an interview with one of your employees to discuss this?
A: Due to the sheer number of requests we receive, we regret that we are unable to participate in interviews with school students.
Q: I have a great idea for a game. How can I submit it to you?
A: All of our game concepts are developed by our internal designers, in conjunction with our publishers. It is company policy not to accept game concepts from third parties.
Q: I'm still in school and I want to get a job in games in the future. What kind of education and skills do I need to achieve this goal? Can you provide me with information on the schools that teach this discipline?
A: The skills required to work in the games industry are very broad, as there are many areas in which you can work. In development there are roles in art, animation, programming, design, and project management. Other industry roles include sales, marketing, PR, and testing. The most important thing is to get an education in subjects that you enjoy and that you are good at. Your career adviser should be able to give you guidance as to which careers are suitable for an individual with your particular skills.