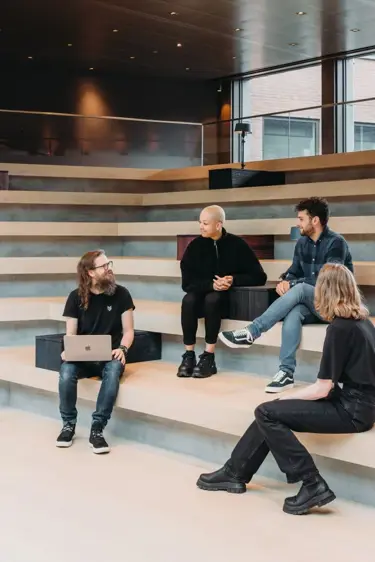 Help us meet our aesthetic and in-game requirements while working within technological specifications.
OUR TECH ANIMATION TEAM
Guerrilla is looking for an ambitious individual with a proven track record in the rigging and skinning of highly stylized characters to join our Technical Animation Team. As the successful candidate, you will collaborate with our Art, Design, and Animation teams to help meet our aesthetic and in-game requirements while working within technological specifications. You will assume responsibility for the skinning and rigging of our characters. Achieving the delicate balance between the complexity and the usability of the rig is an important part of your day-to-day tasks.
WHAT YOU WILL DO
As a Senior Character Rigger, your main tasks and responsibilities are:
Rigging and skinning of a wide variety of characters using existing tools, and drive the development of new tools to aid and improve runtime deformations.
Developing rigs that push the quality of faces, clothing and hair to new heights.
Your rigs will allow animators to deliver high quality keyframe animation uncompromised by limitations of technical processes.
Defining workflows and pipelines in consultation with your colleagues, and developing and improving in-house tools as needed while remaining aware of the impact of your decisions on other disciplines.
Researching and developing new techniques, approaches and solutions as required.
PRINCIPAL WORKING RELATIONSHIPS
You will work within the Technical Animation team to define processes and tools that help improve the overall quality of our skinned characters in the most efficient way possible.
You will work closely with the Animation, Modeling and Outsourcing teams to turn their art assets into runtime assets.
You will work closely with the Engineering team to develop tools and workflow, and to troubleshoot runtime issues.
WHO YOU ARE
We'd love to hear from you when you have:
Over five years of professional experience in feature film animation or games;
A demo-reel that exhibits a wide selection of character rigs, from creatures to highly stylized characters;
Experience working as or with animators to ensure the best possible rigs;
Firm grasp of anatomy and facial rigging;
Excellent Maya skills;
Proficiency with scripting languages Python (first), Maya Python API (second).
INTERESTED?
If you are up for the challenge, you can apply by hitting the "apply now" button. Be sure to submit your CV and a motivation letter - we like getting some insight into your reasons for applying to Guerrilla. and support your application with a showreel showing off any recent and relevant work to the position.
Please note: As part of this application, you will be requested to perform a practical skills test.
This position is based in our studio in the heart of Amsterdam. Guerrilla offers relocation and immigration support.
---
At Guerrilla, we believe that our team's varied backgrounds, experiences, and perspectives help us create games that resonate with a diverse audience.
As an equal opportunities employer, we strive to create an inclusive environment, empower employees and embrace diversity.
We encourage everyone to respond as we consider all candidates on the basis of their merit, unique strengths, and perspectives they will bring to the role.