Relocation
A comprehensive
Relocation package
Guerrilla is based in Amsterdam, the Netherlands. While the city is already a welcoming place for international workers, we aim to go above and beyond for new Guerrillas. That's why we've created this comprehensive relocation package.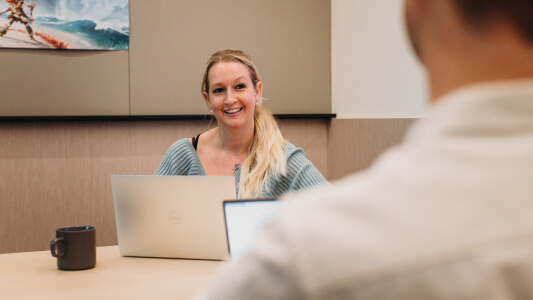 Before the move
We make the immigration progress as simple as possible for you and your dependents, whether they've got two legs or four.
We'll set you up with a Relocation Consultant. They'll be your go-to to help you tackle immigration and visa/permits, as well as your social security and bank accounts, supporting you to have a smooth journey. Our Tax Consultant will also help you apply for the Netherlands' unique tax break for foreign workers, which makes up to 30% of your gross salary tax-free.


Making the move
Once you're ready and your bags are packed, we'll help with your moving costs with a tax-free relocation allowance. We will also house you for the first two months in a fully-paid central Amsterdam apartment while providing key information to help you find your own place - either here or in one of the many towns nearby.

Once you're here
Most of our roles are based out of our Amsterdam studio, with a hybrid model allowing employees to work from home one or more days per week. And, though the studio operates in English, we do offer Dutch lessons to help you settle in the Netherlands.
Relocation
International Guerrillas
"Guerrilla offered amazing help with my move from the UK to The Netherlands, from the organising of my Visa, Residency Permit, and entrance paperwork, down to the smaller help of assisting with the booking of appointments and translating of personal documents.
What I was expecting to be the hardest part of the move, turned out to be one of the simplest parts due to the help that Guerrilla provided!"
Joined Guerrilla: August 2022
"I moved from the United States, and my move couldn't have gone smoother. My travel situation was quite tricky as I have three cats, but Guerrilla helped find a specific flight that would allow me to bring my pets along with me. Additionally, since I was immediately set up with a (pet-friendly) company apartment, it gave me the breathing room I needed to find my own place in Amsterdam."
Joined Guerrilla: February 2020
"I moved from America in 2015. Basically moving to the Netherlands is the easiest "moving abroad" experience I've heard about from anyone who has moved to Europe. Guerrilla handles all the paperwork for you, and having two months in a company apartment when you arrive is invaluable. The day I arrived my boss at the time met me at my apartment to hand me the keys. I was moving with a big dog and multiple suitcases so Guerrilla arranged a van to pick me up at the airport."
Joined Guerrilla: 2015
"I moved from Lisbon, Portugal. The relocation process was seamless, even during covid. The temporary apartment we got was wonderful and had everything we needed. Administrative wise, (BSN registration, etc...) everything was scheduled for us and was so easy. I felt like I just moved to a different neighborhood, but one with more things to do and everything only at the distance of a bike ride."
Joined Guerrilla: Noc 1 2020
"I was extremely happy and surprised by the relocation support from Guerrilla. I have moved countries 3 times before and one of them also for work, none of them compares to how this one was, the experience of moving to the Netherlands and the support by Guerrilla made it that much easier. I felt really looked after by the HR and Office teams. It was great!"
Joined Guerrilla: 2021