Creating the many Faces of Horizon Forbidden West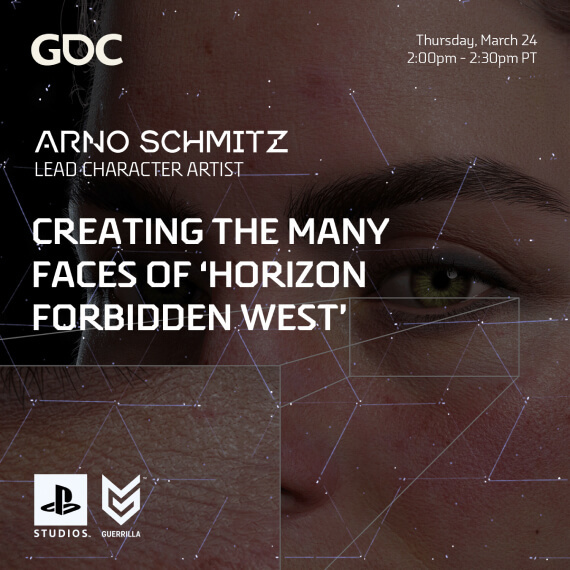 Session Description
People have an intrinsic ability to identify attributes of the human face and remember details. This is no different with videogame characters; we remember their names, attributes, and expressions. That is why building quality characters is the foundation of the soul of a videogame, and their faces are one of the most important graphical benchmarks.
Guerrilla shares how the final quality of their characters' faces in Horizon Forbidden West was achieved, and shows the extra fidelity thanks to the power of the PS5. We'll also look at how to do all this to scale so that all the characters in the open world have the same quality.
Attendee Takeaway
The attendees will gain insight into the many facets of the production pipeline of the faces of Horizon Forbidden West, and learn tricks and approaches to increase the realism of the characters. As an example, we will look at using photogrammetry pictures as a look-dev tool.
Intended Audience
The target audience industry peers interested in stepping up their game when it comes to realistic faces. Beginning artists will also have plenty of takeaways.
BIO
Arno Schmitz is the Lead Character Artist at Guerrilla.
He graduated in Game Architecture and Design at the Breda University of Applied Sciences and later studied the Intensive Drawing Program at the Florence Academy of Arts.
His credits at Guerrilla include Killzone Shadow Fall, Horizon Zero Dawn and the Frozen Wilds, and most recently Horizon Forbidden West.